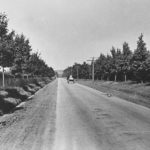 We drive over them, around them, put their names on our address labels, cite them in giving directions, and hear that they are closed or under construction or backed up.  With the correct app we can even drive virtually down a street in our city or state or country without leaving our home.  What about those street names…for whom or what were they named?
In the post on July 1st we saw how some of the street names changed in 1916, going from names to numbers.  As the city grows and streets are built or lengthened, the names are changed to avoid confusion.   For instance, there was once a Davis Road and a Davis Street in Forsyth County.  Apparently this became too confusing for the post office, so Davis Street was changed to Radford Street.  It didn't matter that the street was originally named for a Davis family who once owned the property.
Street name changes happen all the time and new names are assigned to new neighborhoods. Sometimes the street names are significant to the location, such as related to a person or family who lived in the area or owned the land.  Sometimes the names are chosen to reflect a theme, such as the names in the Sherwood Forest neighborhood. Here are a few street names and the probable source of the name.
Abattoir Street…The city's abattoir (animal slaughterhouse) was located here and was a continuation of West 12th Street, between Trade and Oak Streets.  The photo shows the Winston-Salem abattoir that opened in 1935 and was abandoned in 1959.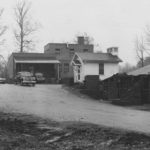 Belleau Wood, Soissons, Marne, Verdun, and Argonne…If these names sound familiar it's because they are World War I battle locations in France.  The streets are located in a Waughtown neighborhood.  The street names appeared in the local city directory in 1921, listed in the Long View Development.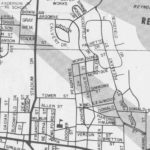 Burke Street…Located between West First Street and West Fourth Street, with Brookstown Avenue running through it, Burke Street was named for the Burk (originally no "e" on the name) family that owned and farmed the land in that area.  See http://winstonsalemtimetraveler.com/2015/11/15/then-now-burke-street/ for additional information.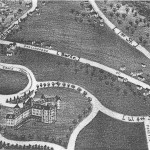 Buxton Street…Probably named for John Cameron Buxton (1852-1917), a local lawyer who also served as Mayor of Winston and as a North Carolina Senator.  He was an advocate for the local schools and aided in obtaining the city's Carnegie Library.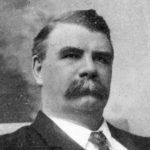 Cascade Avenue…Named for a waterfall not more than four feet high which was once in the Washington Park area.  The photo below shows the A. H. Eller house at 129 Cascade Avenue in 1924.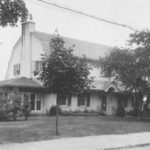 Diggs Boulevard…Named for Jefferson Davis Diggs, a black storekeeper, housing contractor, teacher, and minister who later became a bishop in the United Holy Church of America.  Diggs-Latham Elementary School, located on Hutton Street, was named in his honor.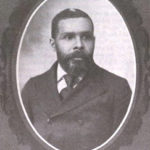 Elizabeth Avenue…Named for Elizabeth Jerome Holder (1914-2009), daughter of Walter G. Jerome Jr., one of the developers of the Ardmore neighborhood.  The name of the street was first mentioned in the city directory in 1921. Elizabeth graduated from R. J. Reynolds High School and Salem College.  She worked as a librarian at Salem College, Brevard College, and the University of North Carolina at Greensboro.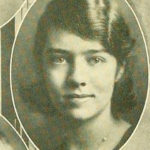 Fairway Drive and Parkway Drive…These names reflect the streets that were near the Westover Golf Course in Ardmore.  Some of the golf holes were on either side of South Hawthorne Road.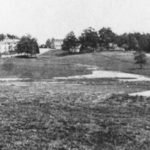 Glenn Avenue…Probably named for Robert B. Glenn (1854-1920), a lawyer who lived in Winston-Salem and served as Governor of North Carolina (1905-1909). Read more about Governor Glenn at http://winstonsalemtimetraveler.com/2014/08/11/august-11-happy-birthday-gov-robert-b-glenn/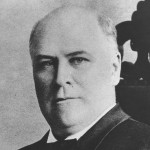 Hawthorne Road…The name of the street in early days was Ardmore Avenue or Road, and was later changed to Hawthorne Road.  Ardmore was first mentioned in the 1920 city directory, but just for the development, with neither street names nor street numbers.  Hawthorne Road was first mentioned in the city directory in 1924. The photo below shows Hawthorne Road at Baptist Hospital in 1946.  Notice the houses and other buildings across from Baptist Hospital.  The land is occupied by a parking deck today.  Also, the Ardmore Road name was revived and assigned to a street that runs off of Ebert Street.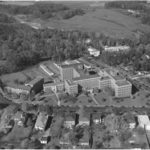 High Street…The location of the street was a high point in the city.  Situated on High Street was the home of Col. Francis Henry Fries (1855-1931), an industrialist who established Arista and Indera Mills and was president of Wachovia Bank and Trust Company.  The Hawthorne Inn and Conference Center at 420 High Street is located on this lot today.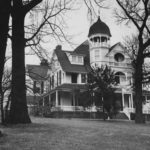 Holly, Spruce, Poplar, Cherry, Chestnut, Oak, Laurel, Mulberry, Willow, Linden, Alder and Hemlock…Many streets are named for trees, mostly going north to south through downtown.  The original thought in using tree names was that they would be easy to remember.  The photo below shows the P.H. Hanes house on Cherry Street and proves that there were once trees (and houses) on Cherry Street.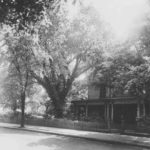 Jasper Memory Lane…Located on the Wake Forest University campus and named for the chairman of the school's department of education.  Professor Jasper L. Memory (1901-1991) was a graduate of Wake Forest College, class of 1921.  A scholarship was established in his honor at Wake Forest University.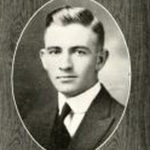 Kent Road…Possibly named for Charles Ardea Kent (1868-1927), a native of Virginia, who worked for R. J. Reynolds Tobacco Company and who later was president of Brown and Williamson Tobacco Company.  His home was called "Kentwood," which was located at Reynolda.  He married Senah Critz, a niece of Richard J. and William Neal Reynolds.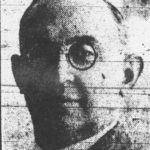 Manly Street…Probably named for Clement Manly (1853-1928), a local lawyer who was known as Colonel Manly.  He came to Winston-Salem in 1890 and practiced law with several individuals, one of whom was Robert B. Glenn.  The firm was later known as Womble Carlyle.  Col. Manly was legal counsel for Richard J. Reynolds.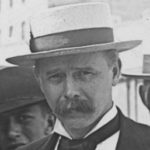 Marshall Street…One of the original five streets in Winston, Marshall Street was initially named Pine Street.  Later the name was changed to Marshall Street, named after William Frederick Marshall who supervised the building of Salem.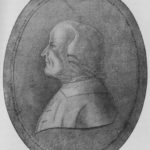 Stay tuned for Part 2 of "What's in a Name?  Our Streets" coming August 1st.
Photos courtesy of Forsyth County Public Library Photograph Collection.
The first photograph on this page shows Reynolda Road in its very early days.