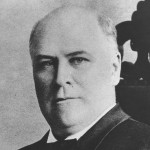 Governor Robert Brodnax Glenn was born on this day in 1854, in Rockingham County, to Chalmers and Annie Dodge Glenn.
His father was a tobacco planter and a lawyer, and participated as a captain in the Civil War.  He was killed at the Battle of South Mountain in 1862.
Glenn studied for three years at Davidson College, then took a law preparation course at the University of Virginia.  He enrolled in law school in Richmond Hill, and was admitted to the bar in Rockingham County.
Glenn married Nina Deaderick in 1878.
He moved to Stokes County and practiced law for eight years, then came to Winston in 1885.  He joined the law practice of William B. Glenn, and later worked with Clement Manly and W. M. Hendren.
Glenn was elected to the state legislature from Stokes County in 1880.  He was state solicitor in 1886, and was a Democratic presidential elector in 1893 and 1897.  He was a state senator from Forsyth County in 1899.
Glenn was elected governor of North Carolina in 1904, and served from 1905 to 1909.  He was called the "prohibition governor" when North Carolinians voted for prohibition in 1908.
Glenn did not hold another political office when his term as governor ended.  However, his name was mentioned as a possible presidential candidate in 1909 for the 1912 election.
He often lectured for the Board of Home Missions of the Presbyterian Church.  He was appointed to the International Boundary Commission in 1915 by President Wilson.
He died in Canada in 1920, while he was attending a session of the commission.
He is buried in Winston-Salem, and there is a historical marker at Broad and Fourth Streets indicating that his home was located nearby.
Photo courtesy of Forsyth County Public Library Photograph Collection.