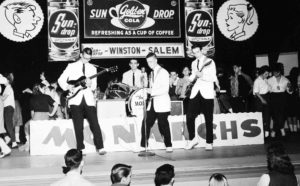 We often recall seeing special movies at the Carolina Theatre.  But movies were just one type of event that took place in the Carolina Theatre over the years.
In the 1960s, "combos" made their appearance on Saturday's at the Carolina Theatre, with names such as "Satans," "Fireflies," "Triangles," "Teen-Beets," "Kingbees," and "Valiants," just to recall a few of the combo names that performed on the Carolina Theatre stage.
Now, if you're not from the generation that associates the word "combo" with music, instead of a fast food restaurant menu choice, here are a few definitions of the word "combo."  A combo is a small group of musicians.  A combo is a small jazz, rock, or pop band.  And, a combo is a small musical group that plays jazz or dance music.  In addition to performing at the Carolina Theatre, many of the groups performed at the high schools.  There was usually a dance after the home football games at local high schools and combos provided the music.
Here are several photos of different combos that performed at the Carolina Theatre, mostly in the mid-to-late 1960s.  While the names of the combo groups are known, the names of the combo members are not known.  So, if you recognize the combo members, please post their names as a comment.  This is Part 1 of the "combo" posts, with Part 2 to follow on February 1st.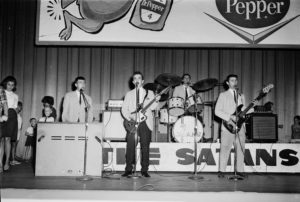 The Satans, July 1965.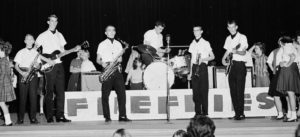 The Fireflies.
The Triangles (an all-female group).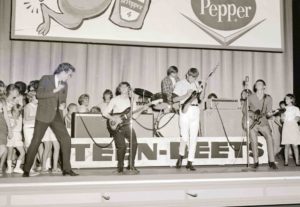 The Teen-Beets, June 1965.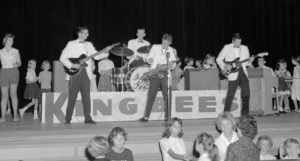 The Kingbees.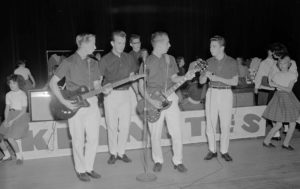 The Keynotes.
Did you notice that the musicians usually dress alike in the groups?  And, the audience definitely gets into the act by dancing on the stage or in the orchestra area.
Be sure to post names of combo members if you know them, identified by group.
Photos courtesy of Forsyth County Public Library Photograph Collection.
Stay tuned for the next delicious post on January 20th.
Stay tuned for "Combos at the Carolina Theatre. Part 2" coming on February 1st.