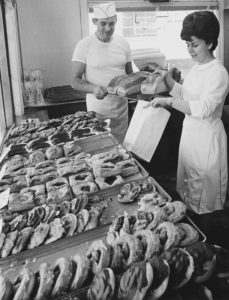 One look at this photo, and you can imagine the delicious aromas that are in the building and are probably wafting around the building.  Do you recognize the people or the bakery?  One clue: delicious aromas are still wafting from this building, but not from the pastries and doughnuts that are pictured here.
The photo above is from Neumann's Bake Shop, located at 1412 S. Hawthorne Road. Heinz Neumann bought a doughnut shop at this address in 1967.  He and his wife, Waltraud (pictured), operated the bakery together until her death in 1968. Neumann married Joreen in 1972 and they operated the bakery until they retired and sold the shop in 1980.
The building continued to house a bakery until it became Wimpy's Restaurant for a short time, then it became PB's Takeout in 1987. PB's specializes in hamburgers, hotdogs, other sandwiches, and buffalo wings, all served with freshly made toppings and sides. The restaurant was started by Mike Mayo and his sister, Patty Pate.  PB's name came from Mike's nickname, Polar Bear.  Today the restaurant is operated by Patty Pate and her family.  The restaurant has seats (as shown in the photo), but it does a hearty takeout business, as indicated by the name.  See the website, http://pbstakeout.com/ for hours of operation and the menu.
Black & white photo courtesy of Forsyth County Public Library.  Color photos by Molly Grogan Rawls.
Stay tuned for the next delicious post on August 22nd: Blueberry Pie, and the next historical post on September 1st.