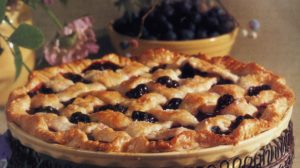 Maybe one of your summer memories or a summer tradition today is picking blueberries and using them in a special recipe.  This pie uses fresh blueberries and makes a tasty reminder of warm summer days.
Fresh Blueberry Pie
Ingredients:
5 cups fresh blueberries*
1 Tbsp. lemon juice
Pastry for a double-crust 9-inch pie
1 cup sugar
1/3 cup all-purpose flour
1/8 tsp. salt
½ tsp. ground cinnamon
2 Tbsp. butter or margarine
1 large egg, lightly beaten
1 tsp. sugar
Directions:
Sprinkle berries with lemon juice; set aside.
Roll half of the pastry to 1/8-inch thickness on a floured surface.  Place in a 9-inch pie plate
Combine 1 cup sugar and next 3 ingredients; add to berries, stirring well. Pour into pastry shell, and dot with butter.
Roll remaining pastry to 1/8-inch thickness.  Place over filling; seal and crimp edges. Cut slits in top of crust to allow steam to escape. Brush top of pastry with beaten egg, and sprinkle with 1 tsp. sugar.
Bake at 400 degrees for 35 minutes or until golden.  Cover edges with aluminum foil to prevent overbrowning, if necessary. Serve warm with vanilla ice cream or gelato, if desired. Yield: 8 servings.
*You can substitute 2 (14-ounce) packages frozen blueberries, thawed and drained. Just increase the flour to ½ cup.
Note: You can forego the solid top crust and cut the top pastry into strips and make a lattice on top of pie.
Enjoy!
Stay tuned for the next historical post on September 1st: Sneak Peek: New Central Library.