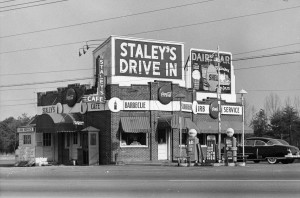 Lawrence Staley teamed with Quality Oil Company when he built his first restaurant on Reynolda Road in 1937.  The restaurant was located near Oldtown Drive and was a brick building.
This first building was replaced in 1959 with a drive-in that also offered dine-in service.  The drive-in had 50 teletrays where the orders could be placed through an intercom, with the push of a button, and food was delivered to the car.  The drive-in had car spaces on both sides of the building and along the back row behind the restaurant.
The Open Hearth Room was added in 1963,  replacing the car hop on the left side of the building.  The Open Hearth Room could seat 130 people.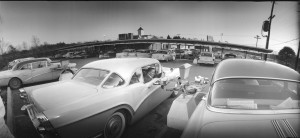 The restaurant was a popular spot for people of all ages, and particularly for teenagers and young adults.  Weekends were busy with hungry students from Northwest High School (later North Forsyth High School) and Reynolds High School who came after football and basketball games.  A large rock in front of the restaurant was painted and repainted with school colors and mascots during the school year.  Staley's was also on the cruising route that wound through several local car hops, when the plan was to see and be seen.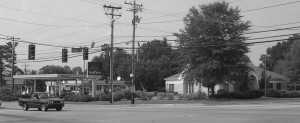 A new Quality Oil (Shell) station was built in front of Staley's.  This was later replaced with a Quality Mart and a Sun Trust Bank branch.  Oldtown Drive became Fairlawn Drive.  The photo above was taken in 2009, from Fairlawn Drive (MGR).
Also on Reynolda Road, Lawrence Staley (right) teamed with Kenneth Cheek (left) and opened Staley's Restaurant in 1957.  They bought a diner that previously operated as Banner's and Chez Raymond.  The name became Staley's Charcoal Steak House and the restaurant was known for its steaks, potatoes, and salads, plus the appetizer plates that preceded each meal.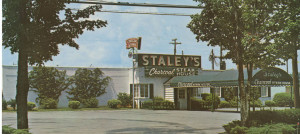 The restaurant, located at 2000 Reynolda Road, was close to a neighborhood.  The zoning code prevented expansion until an amendment was adopted in 1968.  A 1,478-sq.-ft. expansion added 70 seats to the existing restaurant in 1969.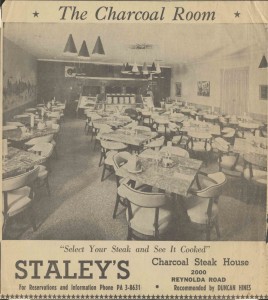 Staley's was a favorite location for a special meal, and many birthdays and anniversaries were celebrated in their dining rooms, one of which was called The Charcoal Room.  Famous visitors to Winston-Salem passed through their doors over the years.
In 1963, the building's cement block exterior was brick-veneered, and the interior featured plush seating.  Gas lights were placed on top of newly constructed brick columns on each side of both entrances to the property from Reynolda Road.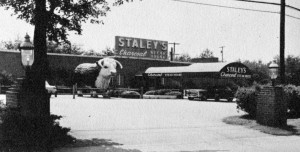 But, probably the most memorable feature of the restaurant was the 11-foot tall, 21-foot long fiberglass bull that stood in a wooden corral beside the front door.  Winston (that's his name) spent some time in storage in High Point, when neighbors objected to his presence.  He returned to the restaurant in 1975. Sometimes, passersby would notice that the bull was absent, and found out later that he was visiting people and places all over the state.  He appeared at car races and participated in parades, and even took a spin through the Wake Forest University campus for Farm Day.
When Ken Cheek retired and sold Staley's in 1990, the bull also retired to Cheek's farm in Wilkes County.   He remained on the farm during the restaurant's brief stint as Frankie Rowland's Steakhouse.  A fire in 2006 left the building needing repairs and a new owner.  Shortly after the restaurant changed hands and became Old Staley's Grill and Ale in 2010, Winston was lured from retirement and reclaimed his place of honor at the restaurant in 2011.  He could be seen standing on a trailer, ready to leave whenever he was  summoned.  Today, Winston is out to pasture in an undisclosed location.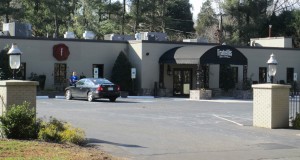 The restaurant was remodeled and reopened in 2013 as Fratellis Italian Steak House, shown above (MGR).
Historical photos courtesy of Forsyth County Public Library Photograph Collection.  Recent and current photos by Molly Grogan Rawls.
Stay tuned for more Staley's Restaurants on February 15th.