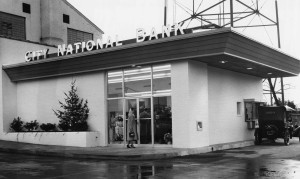 City National Bank began its existence as a bank in 1917 as the Winston-Salem Morris Plan Company.
The name changed to City National Bank in 1940, when it became a nationally chartered commercial bank.
For many years the main offices were located at 206 West Fourth Street.  In 1955, the fourth City National office opened at the new Thruway Shopping Center.  An open house was held on this day at the new branch in 1955.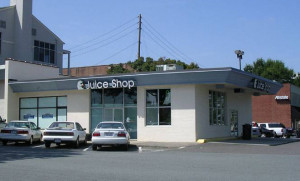 Today, the Juice Shop, shown above, occupies the bank branch site, dispensing a variety of tasty fruit smoothies.
Black and white photo courtesy of Forsyth County Public Library Photograph Collection.  Color photo by Molly Grogan Rawls.