West Forsyth High School opened in 1964, one of four new high schools to open in Forsyth County.  The other high schools were North Forsyth, East Forsyth, and Parkland.  All four high schools were three-year schools in the beginning.
West Forsyth replaced Southwest High School which then became a junior high school, which covered grades 7 to 9.  Southwest was fed by students in Clemmons, Lewisville, and South Fork.  There is an extensive history of West Forsyth High School on the school's website at http://www.wsfcs.k12.nc.us/Page/9764

The first principal of West Forsyth was Harold E. Simpson (1913-1997) who was formerly the principal of Lewisville School and Southwest High School.  Mr. Simpson left West Forsyth in 1970 to become an associate superintendent for the local school system.  The gymnasium at West Forsyth was named in honor of Mr. Simpson (pictured below).
The original campus consisted of six buildings and they were numbered 100-600.  Five additional buildings were added to the campus and include classrooms, a gymnasium, and a Performing Arts Center that was recently named the Anderson Performing Arts Center (shown below) after Jim Anderson who taught English, directed musicals, and started the annual talent show at the school.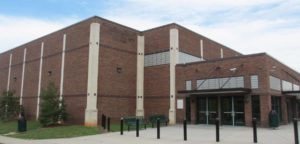 Another principal, Jerry Peoples, was honored when the West Forsyth stadium was named for him.  Mr. Peoples was principal from 1979 to 1996. He was an assistant to Mr. Simpson in the late 1960s, after having taught history at North Forsyth High School.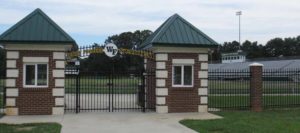 The school's history relates other changes in the buildings and the staff over the years.
Here are some current photos of the West Forsyth High School campus, to compare with the early photos of West Forsyth when it was brand new.
Black and white images courtesy of Forsyth County Public Library Photograph Collection.
Color images by Molly Grogan Rawls.
Stay tuned for the next historical post on September 1st.