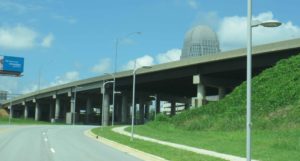 A bridge on Interstate 40 that passes over Salem Avenue and Research Parkway, was dedicated on July 19th, 2016.  It was named the George Hamilton IV Bridge, honoring the man behind the name who would have been 79 years old on that day.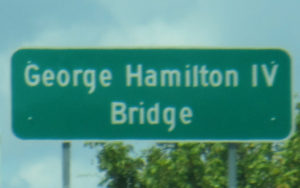 George Hamilton IV was a Winston-Salem native who loved music and made it his life's work and passion.  He was of the Moravian faith and shared his faith and his Moravian heritage with people all over the world.  Read all about him in the WSTT feature that was published on his birthday, http://winstonsalemtimetraveler.com/2014/07/19/july-19-happy-birthday-george-h-hamilton-iv/.
George is buried in God's Acre in Salem.  His stone carries his name and dates, an etched Moravian star, and the word: "musicianary," indicating that he was a musician and a missionary, and music was the vehicle for his message.
Photos by Molly Grogan Rawls.