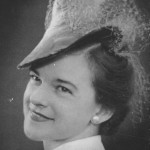 Jacqueline Dorminy Jackson was born on this day in 1907, in Georgia.  She came to Winston-Salem in the early 1930s, and began her Dorminy Dance Studio at that time.
"Miss Dorminy," as she was known, conducted her dance classes in the ballroom of the Zinzendorf Hotel on North Main Street.  Over the years, thousands of young people made the trip downtown to learn tap and ballet, along with self-confidence, grace and poise.  She was known as a kind teacher, but she was strict, and she got the student's attention with a whistle that she wore around her neck.
Jacqueline studied theatre and speech at the University of Georgia, and also studied in London and Paris.  She taught with a number of organizations, all across the country.  And, at one time, she operated 12 dance schools in the Winston-Salem area.  And, she continued to teach until her last days.
When she was 95 years old, she published a book of her reminiscences, titled "Miss Dorminy Speaking; Highlights of My Life."  Miss Dorminy passed away in 2005.