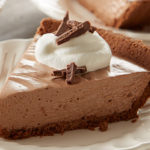 Here are two easy and refreshing pie recipes.  The first pie can be made with three ingredients and does not require a stove or a mixer.  The second recipe has just a few ingredients, it also does not require a stove or a mixer, and it makes 2 pies…one to keep and one to share.
Chocolate Bar Pie
Ingredients:
Graham Cracker pie crust, either regular or chocolate
6 oz. Hershey's Milk Chocolate Bar
8 oz. Container of Cool Whip (defrosted) or other non-dairy whipped topping
Directions:*
Melt the chocolate bar, cut into pieces, in the microwave, 30 seconds at a time, until the chocolate is melted.
Empty the defrosted Cool Whip into a mixing bowl.
Pour the melted chocolate over the defrosted Cool Whip and stir gently until the chocolate is combined.
When the chocolate and Cool Whip are combined, spoon the mixture into the pie crust.
Garnish the pie with additional Cool Whip and chocolate shavings if desired.  Refrigerate.
*Note: If the Cool Whip is not defrosted, when you pour the chocolate over the frozen Cool Whip, the chocolate will immediately harden into a solid, chocolate mass.  If the Cool Whip is just a little frosty, there will be little flecks of chocolate in the pie, which is desirable, but the timing has to be just right.  Also, the amount of chocolate and the amount of Cool Whip can be adjusted to make the pie more or less chocolatey.
Heavenly Delight Pie
Ingredients:
2 Graham Cracker pie crusts
1 14 oz. can Eagle Brand condensed milk
1/4 cup lemon juice
1 large 20 oz. can crushed pineapple, well drained
1 cup finely chopped, toasted pecans
1 large 12 oz. carton Cool Whip
Directions:
Stir all ingredients together and divide the mixture between the two pie crusts.  Refrigerate.
Enjoy!
Stay tuned for the next historical post on August 15th: West Forsyth High School: Then & Now.