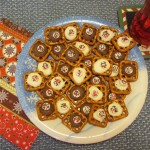 Pretzel Mints combine the salty taste of pretzels with the sweet taste of vanilla or chocolate coating, topped with a burst of mint.  The bite-size snacks can be made with either vanilla or chocolate coating, or a mixture of the two.  Make a large batch…they disappear quickly!
Pretzel Mints
Ingredients:
Snyder's Pretzel Snaps
White or chocolate bark coating
Smooth 'N Melty Petite Mints (available seasonally at Fresh Market and A. C. Moore)
Directions:
Line a baking sheet or pan with non-stick foil.
Fill the baking sheet or pan with one layer of pretzel snaps.
Melt two or three  squares of one of the coatings in a microwaveable dish in the microwave, until runny.
Spoon a dollop of the coating in the center of the pretzel snap.
Top each snap with one of the mints, pointy part down, decorative part up.
When the coating has cooled and hardened, the pretzels can be removed from the foil and stored in a container.
Enjoy!