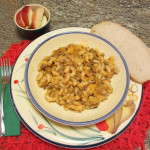 One-pot meals are enjoyable in the wintertime, especially when they couple hamburger with the comfort foods of macaroni and cheese.  This dish can be prepared and refrigerated until time for cooking, or it can be frozen and cooked later.
Beef and Macaroni Casserole
Ingredients:
1 lb. ground beef, browned & drained
2 eggs
½ cup ketchup
1/3 cup milk
¼ cup chopped onion (or use dehydrated onions)
1 ½ tsp. salt
8 oz. (1 ¾ cup) elbow macaroni, cooked & drained
2 tsp. prepared mustard
½ cup mayonnaise
1 ½ cup grated cheddar or American cheese
½ cup dry bread crumbs (about 2 slices of bread)
2 Tbsp. melted butter or margarine
Directions:
Brown beef with the onions, then mix with eggs, ketchup, milk, and salt.  Add 3/4 cup of the cheese to the mixture.  Blend cooked macaroni, mustard, and mayonnaise, then add this mixture to the beef mixture.  Spread all in a greased 2 qt. baking dish.  Sprinkle the top with remaining cheese.  Prepare bread crumbs in food processor.  Mix with melted butter.  Sprinkle buttered crumbs on top of the casserole.  Bake in 350 degree oven for 30-40 minutes.
Serve with a green salad or fresh fruit and a slice of bread.
Photo by Molly Grogan Rawls.