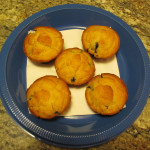 Mix up these blueberry muffins to accompany the chuck roast barbecue or for another meal.
Blueberry Muffins
Ingredients:
2 cups Southern Biscuit Mix
2 T. sugar
2 T. butter
1 cup milk
1 1/2 cups blueberries, washed and drained
Directions:
Measure flour, add sugar to flour in a bowl.  Cut the cold butter into the flour mixture using a pastry hand blender until the butter is in very small pieces.  Add milk and stir, then fold in blueberries.  Spoon mixture into greased muffin tins.  Bake muffins at 400 degrees for 20 to 25 minutes.  Remove when tops and bottoms are golden brown.  Yield: 12 muffins.