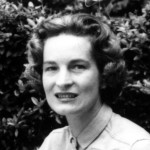 Katharine King Bahnson de Braganca Johnson was born in Leaksville in 1921.  She graduated from Salem College, where she was Queen of the May in 1941, the year she graduated.
Also in 1941, she married Agnew Hunter Bahnson Jr., who passed away in 1964.
Katharine was involved in many community activities, particularly those related to the arts.  She helped in the creation of the N. C. School of the Arts, and helped establish the Arts Council of Winston-Salem.
Katharine was also president of Salem College's Friends of the Library, the Winston-Salem Junior League, the Winston-Salem Gallery of Contemporary Art, the Winston-Salem Symphony Association, the North Carolina State Art Society, and the Twin City Garden Club.
Katharine was also talented in interior decoration, and used her talents  for restoration of various historic houses, conference centers, offices, and was on the planning and co-ordination committee of the opening of the Stevens Center and chairman of their Gala Dinner in 1983.
She received several awards and honors for her participation in many of these activities.
She was also married to John de Braganca and John G. Johnson.
Katharine passed away in 2007.
Photo courtesy of Forsyth County Public Library Photograph Collection.