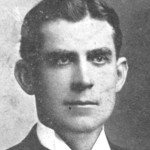 George William Flynt was born on this day in 1875, in Old Town Township, to Romulus and Cynthia Flynt.
He served as Forsyth County Sheriff from 1910 to 1922, a total of six consecutive terms.
In 1924 he was elected county chairman of the Democratic Party for two years.
He was elected to the House of Representatives of the General Assembly in 1928, and in 1932 he became a member of the Board of County Commissioners.  He retired from running for public office in 1936.
George Flynt passed away in 1951.
Photo courtesy of Forsyth County Public Library Photograph Collection.