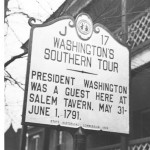 On this day in 1791, President George Washington visited Salem and spent two nights in Salem Tavern.
He arrived in Salem in a cream-colored coach decorated with gold trim.  It was pulled by four white coach horses.  President Washington was greeted by a brass band and a cheering crowd.  Moravian musicians played for the president as he took his evening meal in Salem Tavern.
President Washington decided to extend his visit so that he could meet with Governor Martin who was coming from Salisbury.  On his second day in Salem, he visited some of the houses and workshops, and the Boys School.
The Moravians held a song service of English hymns sent from Pennsylvania for the president's visit.
The Salem Tavern is an exhibit building in Old Salem, and it is interpreted to represent the year 1791.
Photo courtesy of Forsyth County Public Library Photograph Collection.