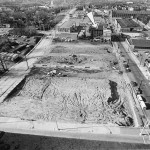 On this day in 1968, the front page of the Winston-Salem Journal showed a photo of the nearly-cleared 500 block of North Cherry Street.  The photograph is facing north, with Marshall Street at left, Cherry Street at right, and Fifth Street in the immediate foreground.
The majority of the buildings on the block were demolished, leaving just the buildings at the end of the block, indicated by the arrow in the photo.  The remaining buildings were the Phillips-Stone properties.
The lot in the foreground would soon show construction activity for the Benton Convention Center and parking lots.
Photo courtesy of Forsyth County Public Library Photograph Collection.