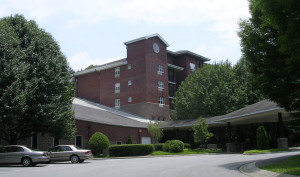 Brookridge Baptist Retirement Community was dedicated on this day in 1989.
Construction of the new facility, located  on 46 acres off Bethabara Road, began in 1987.  It was opened to residents in August of 1989, offering independent living in garden homes and apartments, assisted living care and nursing care.
Many residents moved from the Hayes Home on Reynolds Park Road to the new Brookridge  Retirement Community.
Other buildings have been added to the campus since 1989.
Photo by Molly Grogan Rawls.