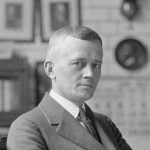 Dr. Clarence Edward Clewell was born on this day in 1883, in Ohio, to Dr. John Henry and Alice Wolle Clewell.
His father was born in Salem and he was educated at the Theological Seminary in Bethlehem, Pennsylvania. He returned to Salem in 1877 to be assistant teacher at the Boys' School.  He left Salem to attend Union Theological Seminary in New York City.  He served as a pastor in Ohio, where Clarence was born.
When Clarence was nearly one year old, his father accepted a position as assistant principal of the Salem Female Academy under Edward Rondthaler.  Four years later, his father was promoted to principal of the school.  He held this position until he resigned in 1909 to take a similar position at the Moravian Seminary for Young Ladies in Bethlehem, Pennsylvania.
It is presumed that Clarence and his three brothers resided in Salem with their parents.  In 1900, at 17 years of age, Clarence was living in Pennsylvania with his mother's relatives, perhaps for education purposes.
It is known that he became an electrical engineer, and was Professor of Engineering at the University of Pennsylvania.  He also served as director of admissions, and he helped establish the Association of School and College Placement.
He was the author of several books, such as Factory Lighting and Handbook of Machine Shop Electricity.  Some of his books have been reprinted and are still available for purchase.
Dr. Clewell was active in the Northern Province of the Moravian Church, and had an interest in the Moravian Larger Life Foundation.
Clarence married Ruth Henry.  He passed away in 1966 in Pennsylvania.
Photo courtesy of the Smithsonian Institution Archives.