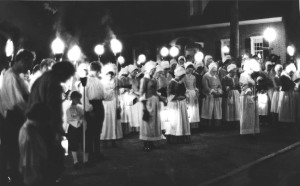 On this day in 1783, the six Moravian settlements in Wachovia observed a "Day of Solemn Thanksgiving to Almighty God"  for the restoration of peace.
This was the first official observation of the Fourth of July following the American Revolution.
Another celebration took place in Salem in 1810, for the first time since 1783.
The photo shown above was made in 1973, at a reenactment of the 1783 observance.
Old Salem and some of the other Moravian settlements continue the annual tradition of celebrating the Fourth of July.
Photo courtesy of Forsyth County Public Library Photograph Collection.