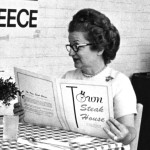 Mary Sapos was born on this day, in Greece, to Gust and Emerisa Stavrou Sapos.
Mary came to the United States when she was three years old, and lived in Colorado.
She came to Winston-Salem in 1927, and became a naturalized United States citizen in 1945.
She and her husband, William J. Chamis, opened the Town Steak House No. 1 on Lockland Avenue in 1940.  They opened Town Steak House No. 2 at Thruway Shopping Center in 1955.
Mary was a visible and popular person at the restaurants, and is shown in the photo above at the Town Steak House No. 2 in 1969.
The restaurants were popular places to eat and served delicious food.  Several groups met there regularly in private dining areas, and people often celebrated special occasions at the restaurants.
Mary passed away in 1971.
Photo courtesy of Forsyth County Public Library Photograph Collection.