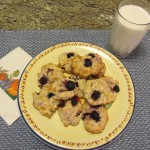 The arrival of fresh blueberries in Forsyth County is often accompanied by fireworks.  This may have something to do with the fact that the blueberry farms usually open around the Fourth of July, if the weather cooperates.  Or maybe, the thought of a fresh blueberry dessert, cheesecake or cookies, makes one want to celebrate.
Here's an easy blueberry cheesecake recipe that makes use of the fresh blueberries.  An Almond Blueberry Cookie recipe follows.
Easy Cheesecake
Ingredients:
1 graham cracker pie crust
12 oz. softened cream cheese
½ c. granulated sugar
2 eggs
½ tsp. vanilla
Directions:
With electric mixer at medium speed, beat cream cheese and sugar until smooth and creamy.  Add 2 eggs and vanilla extract, beating until well blended.  Pour cheese mixture into pie crust.  Bake in 350 degree oven for 30 to 35 minutes, making sure filling is set, but not completely solid.  Cool and refrigerate until serving.
For cherry cheese cake, add a can of cherry pie filling when cheesecake is cool.
For a blueberry cheesecake:  Measure one cup fresh blueberries; wash and drain them.  Chop the blueberries either by hand or in a food processor.  Add the blueberries and the liquid to the cheesecake mixture and bake.  If using frozen blueberries, you might consider not using all of the liquid if you think it is excessive.  Too much liquid will result in a runny cheesecake.
Almond Blueberry Cookies
Ingredients:
2 cups all-purpose flour
2 tsp. baking powder
½ tsp. salt
1 stick (1/2 cup) unsalted butter
1 cup sugar
1 egg yolk
¼ to 1/3 cup whole milk
1 tsp. almond extract
2 tsp. lemon zest, about 1 lemon
½ cup chopped almonds, toasted
1 cup blueberries, washed and drained
Directions:
In a medium bowl, combine flour, baking powder and salt.
In another medium bowl, cream together the butter and sugar using a hand mixer.  Add egg and beat to incorporate.  Add milk, almond extract and lemon zest.
Stir the dry ingredients into the wet ingredients.  Fold in the almonds, then the blueberries.  Chill the dough in the refrigerator for 30 minutes.
Using two small spoons, dollop the mix onto cookie sheets.  Bake at 375 degrees until golden around the edges, about 13-15 minutes.  Cool the cookies on a wire rack.
Makes about 32 medium cookies.
Tip: Use parchment paper for baking the cookies.  To prevent over-browning, cook near center of the oven.