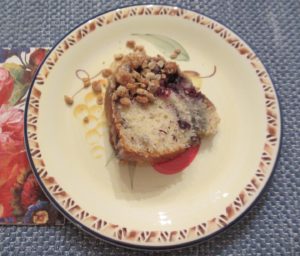 I was treated to this delicious blueberry cake recently at a brunch.  It is not overly sweet and it goes well with any meal or as a stand-alone dessert.  You can use fresh or frozen blueberries.  The glaze keeps the cake moist and the oat crumble topping adds a special touch. Thank you for sharing the recipe, Jay and Karen!
Blueberry Cake (aka Blueberry Muffin Bundt Cake)
Ingredients:
For the Blueberry Cake:
1 cup unsalted butter, softened
2 cups sugar
3 large eggs
1 Tbsp. vanilla extract
2-3/4 cups all purpose flour
2 tsp. baking powder
½ tsp. baking soda
½ tsp. salt
1-1/4 cup buttermilk
Zest of 2 lemons
1 pound fresh blueberries
For the Buttermilk Glaze:
3 Tbsp. buttermilk
1 cup powdered sugar
For the Oat Crumble Topping:
2 Tbsp. butter
2 Tbsp. brown sugar
3 Tbsp. flour
2 Tbsp. oats
2 Tbsp. sliced almonds
Directions:
For the blueberry cake: Preheat the oven to 325 degrees. Spray well a Bundt pan with non-stick cooking spray and sprinkle lightly (but cover completely) with flour. In the bowl of an electric mixer, cream the butter and sugar together until light and fluffy.  Then beat in the eggs and vanilla.  Mix the flour, baking powder, baking soda, and salt in a separate bowl.  Turn the mixer on low and slowly add the flour and buttermilk, alternating each, until all incorporated.  Finally beat in the lemon zest before turning the mixer off.  Use a spoon to stir in half the blueberries.
Pour the batter into the prepared Bundt pan and sprinkle the remaining blueberries over the top. Bake for 60-80 minutes, until a toothpick inserted into the center comes out clean.  Remove the cake from the oven and allow it to cool for at least 20 minutes before flipping out onto a cooling rack.  DO NOT try flipping the cake any earlier than 20 minutes, or the cake will stick.  Waiting 30-45 minutes is safer or the cake will stick.
Once the cake is cooling on the rack, mix the oat crumble. Add all the ingredients to a small bowl and pinch with your fingers to blend the ingredients and break into small pieces. Sprinkle the mixture over a baking sheet and bake in the heated oven for 5–10 minutes.  Cool on the baking sheet before proceeding.
For the glaze, whisk the buttermilk and powdered sugar in a small bowl. Drizzle the glaze over the cake and immediately sprinkle the oat crumble over the top of the cake before the glaze dries.
Note: If frozen blueberries are used, and if they are very moist, the cake will also present a moist appearance, particularly around the inside area next to the hole in the Bundt pan.  The blueberries should be drained well and even lightly dried.
Enjoy!
Photo by Molly Grogan Rawls.
Stay tuned for the next historical post on May 1st: Winston-Salem Places – Then & Now. Part 2.