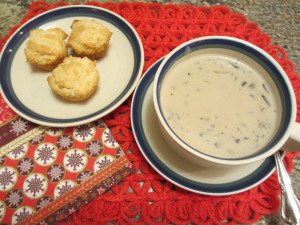 Soup is a good cold weather meal for several reasons.  It's a one-pot meal, and if prepared ahead of time, it can be warmed in the microwave.  If the power goes out, just reach for a fondue pot and a container of Sterno, and you soon have a warm meal.
This mushroom soup recipe came from Southern Living Recipes.  It tastes very similar to a mushroom soup that Oso's Restaurant served, but is no longer on the menu.  The muffin recipe came from Paula Deen, and it consists of three ingredients, making it very simple to prepare.  The muffins are best reheated in a toaster oven.
Cream of Mushroom Soup
Ingredients:
3 (8 oz.) packages sliced fresh mushrooms
1 medium onion, finely chopped
3 Tbsp. butter, melted
1/2 cup all-purpose flour
2 (14 1/2 oz.) cans ready-to-serve chicken broth
3 cups whipping cream
1/4 cup dry white wine
1 1/2 tsp. salt
1 tsp. dried tarragon
1 tsp. Worcestershire sauce
1/4 tsp. freshly ground pepper
Directions:
Coarsely chop mushrooms, if desired.  Saute mushrooms and onion in butter in a large Dutch oven over medium heat 10 minutes or until tender.  Add flour, stirring until smooth.  (I use a whisk to help combine flour).  Cook 1 minute, stirring constantly.
Stir in broth and remaining ingredients (using whisk).  Bring to a boil; reduce heat to medium high.  Cook 20 minutes or until thickened, stirring often.  Yield: 10 cups.
Paula's Muffins
These are sour cream muffins, and the recipe came from Paula Deen, hence my name for them, Paula's Muffins.
Ingredients:
2 cups self-rising flour
2 sticks butter, melted
1/2 pint (8 oz.) sour cream
Directions:
Mix the flour and the melted butter, then add the sour cream until combined well.
Spoon mixture into ungreased muffin tins and bake at 350 degrees for 25 to 30 minutes.  It makes 12 regular-sized muffins.
The recipe can be halved and cooked, using mini muffin tins.  It makes 12 mini muffins.  Cook them at the same temperature and for the same amount of time.  They have a nice crust if you let them bake 30 minutes.
The mixture that you spoon into the tins will not be smooth.
Enjoy!
Photo courtesy of Molly Grogan Rawls.