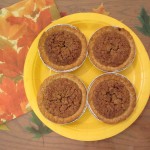 Easy Pecan Tarts
Ingredients:
2 eggs
1 c. firmly packed light brown sugar
2 T. butter or margarine, melted
1 T. water
1 tsp. vanilla extract
Pinch of salt
1 c. chopped pecans
8 to 10 (2-in.) unbaked commercial tart shells
Directions:
Combine eggs, brown sugar, butter or margarine, water, vanilla and salt in a medium mixing bowl; beat well.  Stir in chopped pecans.  Spoon pecan mixture into tart shells.  Place shells on an ungreased baking sheet.  Bake at 425 degrees for 15 to 17 min.