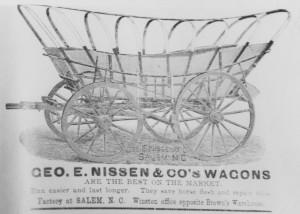 George Elias Nissen was born on this day in 1839, in Waughtown, to J. Phillip and Mary Vawter Nissen.
His father was the founder of the Nissen Wagon Works, established in 1832.  After his death, the business passed into the hands of his sons, George E. and William Nissen.
George enlisted in Company E, North Carolina 21st Infantry Regiment in 1861.  He was mustered out in 1862 and transferred to Company B, North Carolina 1st Sharp Shooter Battalion in 1862.  He was promoted to full corporal in 1862, and was mustered out in 1965 at Appomattox Court House.
George worked with the Nissen Wagon Works until he sold his part of the business to his brother about 1909, because of his failing health.
George was married to Sallie Stafford.  He passed away in 1913.
Photo courtesy of Forsyth County Public Library Photograph Collection.