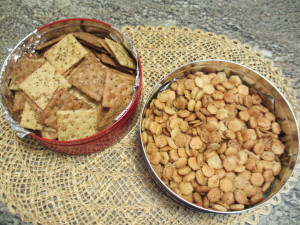 The following post was published last week.  I have added a lighter version of the recipe that is equally flavorful, but with less butter and not as salty-tasting.
Just in time for snacking while watching football games, this seasoned cracker recipe is easy to make and it is delicious.  It is also addictive, so make a large portion!
The original recipe is from the Pioneer Woman, and it was designed for saltine crackers.  However, it is equally good and maybe more flavorful, when made with oyster crackers.  The process is also quicker with the oyster crackers.
Seasoned Crackers – Original Version
Ingredients:
1 stick butter
1 tsp. Italian seasoning
1/2 tsp. seasoned salt
1 sleeve saltine crackers, or one-half of a 12 oz. package soup and oyster crackers (3 cups)
Directions:
Melt the butter in a saucepan and add the Italian seasoning and seasoned salt.  Stir well to distribute the seasonings. Dunk the saltines in the mixture and place on a rack over a baking sheet.
Bake for about 20 minutes.
If you use the oyster crackers, add the crackers to the melted and stirred mixture, then toss until all crackers are coated and the melted mixture is distributed on the crackers.
Pour the oyster crackers into a non-stick aluminum foil-lined baking pan.  Bake for about 18 minutes or until they reach the desired brownness.
Let the crackers cool on the racks or in the pan before removing to store them in a metal storage container.
Seasoned Crackers – Revised, lighter version
Ingredients:
1 1/2 sticks unsalted butter
1 1/2 tsp. Italian seasoning
1/2 tsp. seasoned salt
1 12 oz. (6 cups) bag of soup and oyster crackers
Directions:
Melt butter and add seasonings in a large pan with high sides over medium to low heat.
Add the oyster crackers and stir to coat them with the mixture, taking care not to break the crackers.  When the crackers are coated, and with no butter or seasonings left in the pan, pour the crackers into a large baking pan coated with non-stick aluminum foil.
Bake in 275 degree oven for 20 minutes, removing from oven to stir them after 10 minutes.
Let crackers cool in the pan before moving them to another container for storing.  They keep best in a metal container.
Enjoy!