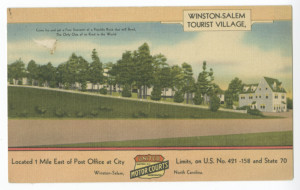 The postcard shown above was mailed in 1939 to Pennsylvania, with the message: "We are staying here for the night. Today we took a guided tour of the city and also toured the factory where Camel cigarettes and Prince Albert smoking tobacco are prepared for market." Located on the Old Greensboro Road, the Winston-Salem Tourist Village advertised that visitors could "sleep in safety and comfort without extravagance."  The advertisement also touted the "modern cottages and rooms, with private baths and free garages."  The Tourist Village Restaurant and office is shown at the right, with the cottages located up the hill from the office. Owned by United Motor Courts, the village was managed at one time by Charles A. Dobbins, who also managed the Summit Street Pharmacy.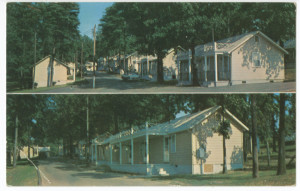 The tourist facility was later known as the Salem Manor Motel (shown above) and also as the Eastview Apartments.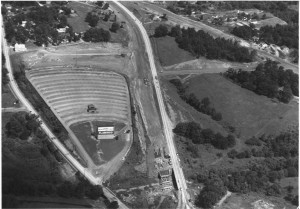 The nearby Flamingo Drive-In Theatre (shown above) offered movie entertainment for travelers and residents. The drive-in was located at 2400 Old Greensboro Road.  The highway is seen at the left in the photo.  The Tourist Village Restaurant and office is the small white building shown near the top left of the photograph beside the highway.  The cottages are hidden by the trees.
Today, the former restaurant and office appears to be closed, but many of the cottages are privately occupied.
Postcards courtesy of Molly Grogan Rawls.
Black and white photograph courtesy of Forsyth County Public Library Photograph Collection.