Several things have changed in downtown Winston-Salem since these photos were made in 1965.  The photos were taken looking east on West First Street.
The large buildings in the distance at the center and to the right in the first photo, and at the left in the second photo, were part of the Brown and Williamson Tobacco Company complex.  The buildings face Liberty Street, with West First Street at the side.  City Hall can be seen far in the distance in the second photo.
Below is a view of the buildings from the front: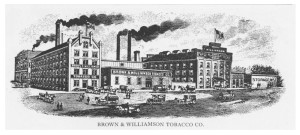 In August 1971, the following photos show the view of the same stretch of West First Street, looking toward Liberty and Main Streets.  The Brown and Williamson buildings, in addition to others,  were razed for downtown renewal.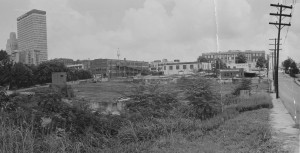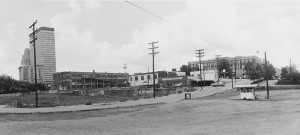 Corpening Plaza is located on the corner of Liberty and West First Street in 2015, seen in the photo below, at left.  And, West First Street has one-way traffic, going west only.  City Hall is at the center of the photo in the distance.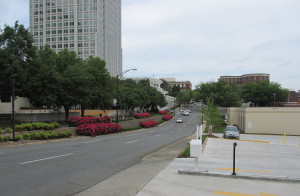 Black and white photos by Forsyth County Public Library Photograph Collection.
Color photo by Molly Grogan Rawls.