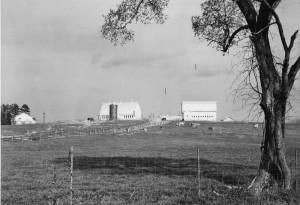 Bowman Gray Jr. (1907-1969) and his wife, Elizabeth Palmer Christian Gray (1915-1974), began buying land for Brookberry Farm in 1946.  They built a home on the farm, which consisted of 795 acres on the outskirts of Winston-Salem, near Lewisville.  Mr. and Mrs. Gray raised their five sons on the farm, and Mr. Gray became involved with farming and raising cattle.
Mr. Gray built a registered Guernsey herd that once ranked fourth-best in the United States in its category.  He sold the herd at auction in 1967.  He kept the Charolais beef cattle.
With all of the cattle to feed, making hay was an important operation on the farm.  In 1956, a new hay-drying system was installed on the farm.  The new system shortened the actual time of sun needed and produced a richer hay product.  The shortened drying time, which produced an abundance of hay, was necessary for the 300 head of purebred Guernseys at Brookberry Farm in 1956.  They produced from 450 to 600 tons of hay a year.
Here are a few images of Brookberry Farm during the haymaking season in May 1956.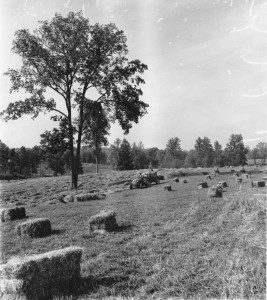 In addition to hay, the other necessary components to raising cattle are good pastures and silage. The farm produced 600 to 700 tons of corn silage each year.  The farm ponds capacity was enlarged over the years to supply irrigation water when needed.  The water helped irrigate the pastures when spring rainfall was sparse.
After the death of Mr. and Mrs. Gray, the pastures and barns were leased for raising cattle, crops and horses.  The farm consisted of the Gray home, barns, grain silos, lakes and rolling farmland.  The farm was also rented by Cozy Fox Farms for a riding school.
For many years, including an announcement in 1987, plans for the acreage were announced and then dropped, until about 2003.  Forsyth County Commissioners approved plans for a mixed use of homes, stores, offices and restaurants that would be built over a 10-year period on the Meadowlark Drive property. In 2005, the Legacy Comprehensive Plan was amended in order to concentrate commercial development in an area on Country Club Road where it intersects with Meadowlark Drive, Shallowford Road, and Styers Ferry Road.
Quality Oil Company and Jim McChesney were in charge of the Brookberry Farm project.  The first phase of development outlined the building of 114 single family homes, with completion planned for 2007 or 2008.  The total number of single-family houses in the original plan was 2,000.
With construction and sales ahead of schedule, families began moving into Brookberry Farm in early fall 2006.  Since that time, homes have continued to be built and new sections carved from the former farmland.
Black & white photos courtesy of Forsyth County Public Library Photograph Collection.
Color image courtesy of Molly Grogan Rawls.
Stay tuned: How well do you know Winston-Salem history?  "Do you know" quiz coming on May 18th.