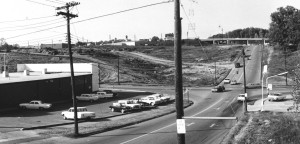 An announcement appeared in the Winston-Salem Journal on this day in 1967, that plans have been completed for a shopping center to be built on Cloverdale Hill.
The new Cloverdale Plaza Shopping Center will have several primary clients, such as Zayre Discount Department Store, Kroger's Supermarket, and Kroger's subsidiary, Super-X Drugs.  There will also be a free-standing drive-up bank.
The site of the shopping center was nicknamed "Old Baldy," after the previous owner denuded the hill of trees and began moving dirt.
Cloverdale Hill was being considered as a possible site for a hospital in 1946 by the City of Winston-Salem, but the property was sold in 1964 to Cloverdale Development Company.
The photograph above was taken from Miller Street, looking toward the intersection of Cloverdale Avenue and Miller Street.  The site of the shopping center is in the distance at the center, between the intersection and the Interstate 40 bridge.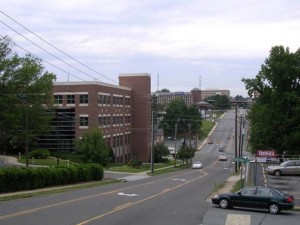 Fast forward about 40 years, and this is the comparable view of the same location.  The trees obliterate most of the shopping center, but it is located on the hill in the distance at center.  The tenants have changed over the years, as well as other surrounding properties.
Black and white photo courtesy of Forsyth County Public Library Photograph Collection.  Color photo by Molly Grogan Rawls.