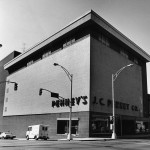 This was a red-letter day for J. C. Penney Company in 1954.  Penney's opened their new department store on the corner of West Fourth and Marshall Streets.
The $1-million building was built on the former location of the Twin City Club.  A special arrangement permitted the Twin City Club to be located on the top floor of the new Penney's building.
Penney's was previously located at West Fourth and Trade Streets, and opened in 1925.  The store closed on October 5th and reopened in its new location on this day.
In 2014, this building houses the Rush Fitness Complex.
Photo courtesy of Forsyth County Public Library Photograph Collection.