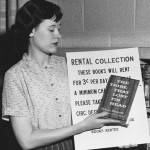 Jane Smith Hill was born on this day in 1931, in Rockingham County, to Albert Bynum and Fleta Field Smith.
She grew up in Guilford County and married Robert Belton Hill Sr.
Jane worked for many years at the Forsyth County Public Library.  She worked in the North Carolina Room for a large part of her years of service, and was an experienced genealogist.  When she retired from the library, she continued her genealogy work, and taught classes in genealogy through Forsyth Technical Community College.  She also authored several books in the genealogy field.
Jane passed away in 2012.
Photo courtesy of Forsyth County Public Library Photograph Collection.