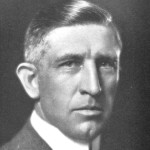 Bunyan Snipes Womble was born on this day in 1882 in Chatham County, to Rev. William Fletcher and Olivia Womble.
His father was a Methodist minister, so he lived in several counties as a child, moving with his parents  as they served different churches.
He graduated from Trinity College (Duke University), and studied law there as well.  He was admitted to the bar in 1905, and came to Winston-Salem to practice law in 1907.  After practicing alone for three and a half years, he became associated with the firm of Manly, Hendren, and Womble.  The firm was known as Womble, Carlyle, Sandridge and Rice when he died in 1976.
He served on the board of trustees for Duke University from 1915 to 1963, and was chairman of the board from 1960 to 1963.
Womble was a charter member of the Winston-Salem Rotary Club, and he was a member of the North Carolina House of Representatives and the Senate.
Photo courtesy of Forsyth County Public Library Photograph Collection.