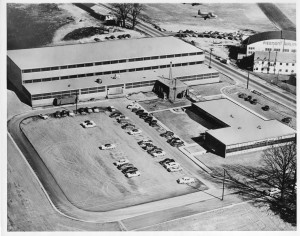 On this day in 1956, Piedmont Aviation held an open house for 3,000 invited guests at its new office and hangar across North Liberty Street Extension from Smith Reynolds Airport.  This was the first public inspection of the new structure, although they had occupied the building since the previous January.
Guests were able to tour the new facilities that cost approximately one million dollars.  Tours were conducted by Piedmont employees, and covered the executive offices, the IBM room, accounting offices, print shop, fabric shop, overhaul division, accessory overhaul shop, sheet metal room, and the executive overhaul room.
A feature attraction was the completely overhauled and remodeled DC3 in the large hangar, which Piedmont is working on for Aluminum Company of America.
Piedmont President Thomas H. Davis said at the open house,  "We hope this is just the beginning of our expansion."
Tours were open to the general public the following evening.
Photo courtesy of Forsyth County Public Library Photograph Collection.