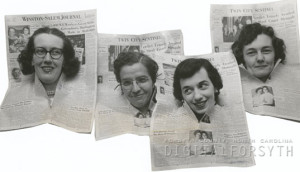 Bonnie Angelo (third from left in photo) was born in Winston-Salem in 1924.  She  graduated from Reynolds High School, attended Salem College for one year, then attended and graduated from Woman's College in Greensboro.
After college graduation, she was employed by the Twin City Sentinel newspaper.  She married Hal Levy, also a member of the newspaper staff, and they left to take jobs for Newsday magazine in Washington, D. C.
Bonnie joined Time Magazine in 1966 as a Washington correspondent covering the White House, and was named the London bureau chief in 1978.  After completing service in London, she returned to work for Time Magazine as a feature writer.
Bonnie is the author of First Mothers: The Women Who Shaped The Presidents, and First Families: the Impact of the White House on Their Lives.
The photo shows Marjorie Hunter, Mary Garber, Bonnie Angelo and Frances Griffin. The women were all writers/reporters for the Winston-Salem Journal and Sentinel.
Photo courtesy of Forsyth County Public Library Photograph Collection.