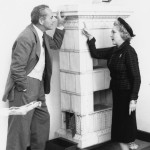 On this date: January 29, 1955.  Mary Pickford and husband Buddy Rogers visited Old Salem.  They toured the John Vogler House and expressed great interest in the restoration effort at Old Salem.  They are shown in the photograph beside the tile stove that provided constant heat in the house.
Mary Pickford and Buddy Rogers visited Winston-Salem on other occasions, as stockholders of WSJS.
Photo courtesy of Forsyth County Public Library Photograph Collection.