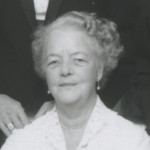 Mildred Borden was born in North Carolina in 1891, and spent her childhood in Goldsboro. She attended St. Mary's Junior College in Raleigh and Gunston Hall in Washington, DC. She married Robert March Hanes in 1917 and they lived in Europe for two years after World War I while he was in government service. After the war they returned to Winston-Salem where Robert continued his work at Wachovia Bank and Trust Company. He later retired as president of Wachovia Bank.
Mildred was a member of Centenary Methodist Church, Colonial Dames, Twin City Garden Club, and the Junior League. She passed away in 1971.
Photo courtesy of Forsyth County Public Library Photograph Collection.