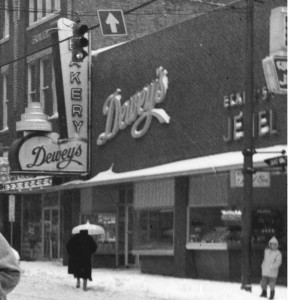 The opening of a new building on West Fourth Street was announced on this day in 1957.
The announcement in the Winston-Salem Journal proclaimed the opening during the previous week at 114 and 116 West Fourth Street.  The new building replaces the Roediger Building that was destroyed by fire two years before.
The occupants of the new one-story building were Dewey's Bakery and Ecker's Jewel Box.  The Jewel Box was previously located at 439 North Liberty street.
The photograph above shows the building in 1960.
Photo courtesy of Forsyth County Public Library Photograph Collection.