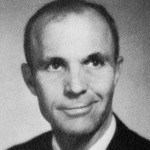 James "Jim" Francis Malcolm was born on this day in 1917, in Mooresville, to William Franklin and Lottie Gant Malcolm.
Jim spend his childhood and youth at the Children's Home.  He graduated from R. J. Reynolds High School and Appalachian State University.
He coached freshman football at ASU, and also coached basketball at Mineral Springs High School.
Jim served in the United States Air Force during World War II.  He married Rachel Vance.
Jim spent most of his career as vice principal at North Forsyth High School.  He also worked as vice principal at Parkland High School.  He worked for Lambe Young Real Estate Company as well.
He was active in several local organizations, such as the Winston-Salem Clean and Green Committee.
Jim passed away in 1991.
The photo is from the 1965 North Forsyth High School yearbook.