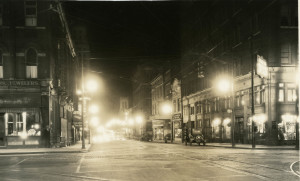 On this day in 1926, local merchant, D. G. Craven, announced that the lighted and overhanging advertising signs along Fourth Street are an eyesore for the street.
Craven volunteered to remove his $500 electric sign if other merchants would do the same.  He also volunteered to replace his electric sign with a sign that fits against his building.
The lighted sign was needed before electric lights were placed along the streets.
He asked that the Board of Aldermen pass an ordinance preventing the erection of signs extending over sidewalks and condemning all signs now extending over sidewalks.
The above photo was taken in 1927, showing the electric lighting along Fourth Street, at the corner of Liberty Street.  A few overhead lighted signs can be seen along Fourth Street, including the lighted sign on the O'Hanlon Building at right, and some at the left as well, farther down Fourth Street.
Photo courtesy of Forsyth County Public Library Photograph Collection.