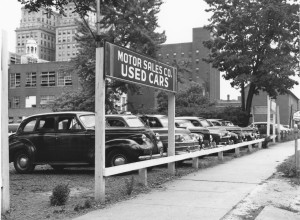 On this day in 1960, the Winston-Salem Journal announced that Edward P.  Owens of Elizabeth City has purchased Motor Sales Company Inc., the local dealer for Imperial, Chrysler, Plymouth and Valiant automobiles.
The business was located at 148 North Main Street, and it was billed as the oldest continuously operated franchised automobile dealership in Winston-Salem.
Owens began working with automobiles as a child at his father's agency in Elizabeth City.  He progressed from washing cars, to greasing, to putting on seat covers, to inventory control before attending college.
The business deal included the inventory, fixtures, equipment, and used cars of Motor Sales Company, "everything but the accounts and notes receivable."
Frank P. Poindexter was formerly the president of Motor Salem Company.  He agreed to remain with the company as vice president, to lend his expertise of the local automobile market.
The purchase of the dealership fulfills the ambition of owning his own dealership, and Owens has moved to Winston-Salem to establish his home.
The photo above shows the used car lot for Motor Salem on North Spruce Street in 1950.
Photo courtesy of Forsyth County Public Library Photograph Collection.