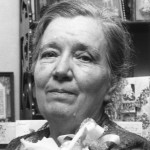 Bessie Whittington was born on this day in 1881, in East Bend, to James Madison and Betty Benbow Whittington.
From a young age, music was an important part of her life.  She studied and taught music, and shared her musical talents  through composing hymns, playing the piano and organ, and directing choirs.
Bessie studied piano at Salem College, and taught music at Clemmons School.  She met her future husband, J. Kenneth Pfohl, when they were on the faculty at Clemmons School.  They married in 1901.
He later became pastor at Home Moravian Church, and she was organist and choir director.  During that time, Bessie organized and directed the first junior choir in North Carolina.
When Rev. Pfohl became bishop of the Southern Province, Bessie resigned her church music post so that she could serve in broader capacities in the province.
Mrs. Pfohl was involved in many music clubs, such as the Thursday Morning Music Club and the American Guild of Organists.  The Thursday Morning Music Club established a scholarship in her honor at the Transylvania Music Camp at Brevard.  Her son, James Christian Pfohl, established the music camp and served as its director.
Her children followed her lead in musical training, and all became musicians.   She presented an organ music program for her daughter Mary's 1928 wedding to Dr. Lassiter, while another daughter, Ruth, played the harp.
Mrs. Pfohl spent her last years at Medicenter, and played the piano for other patients.  She passed away in 1971.
Photo courtesy of Forsyth County Public Library Photograph Collection.