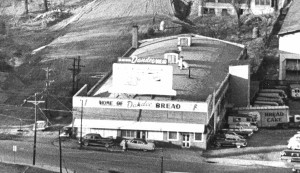 On this day in 1962, the Sessions Specialty Company announced in the Winston-Salem Journal that the business will soon move.
Sessions has purchased the building at Sixth and Marshall Streets.  The building has remained vacant since Bell Bakeries moved out in 1959.  The bakery vacated the building while the Cherry-Marshall Expressway was under construction.
Max Sessions is president of the company, which is a wholesale distributor of watches, jewelry, men's and ladies' hosiery, and small appliances.
The current address of the company is 701 North Liberty Street.  This building may be retained for the business.
The photograph above shows the building with Cherry-Marshall Expressway under construction.
Photo courtesy of Forsyth County Public Library Photograph Collection.