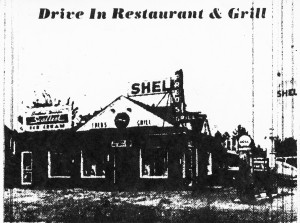 Grubbs Real Estate Company published an ad in the Winston-Salem Journal on this day in 1949.
Fred's Grill, located at the intersection of Cherry Street and East Polo Road, is for sale.  The owner will sell the building, grounds, and the entire stock and fixtures.  The lot size is 90 feet on East Polo Road, and 364 feet on Cherry Street Extension.
According to the ad, there is plenty of parking space.  The interior has all modern stainless steel fixtures.  The dining room has 10 tables, 4 booths, and 10 stools.  The kitchen is up-to-date, and there is a miniature golf course in the back of the lot.
Although the restaurant is doing good business, the owner is leaving town and will sacrifice to sell the property.  And, interested buyers will be surprised at the selling price of this business.
The property is being handled by M. Odell Butner and Cromer R. Grubbs.
Photograph courtesy of Forsyth County Public Library.