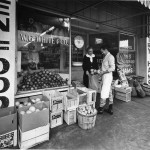 W. G. White and Company's building was destroyed in the Brown's Tobacco Warehouse fire on November 17th.
The business reopened on this day in 1969 at 642 North Cherry Street.  The site was thought to be a temporary location, since it was previously the warehouse for the business.
W. G. White and Company opened in 1925, and specialized in country ham, fresh fruits, and vegetables.
Hanes Produce Company, which was located near W. G. White, chose to not reopen or relocate.
The photo above shows W. G. White in its pre-1969 location on Cherry Street.
Photo courtesy of Forsyth County Public Library Photograph Collection.