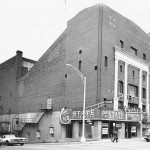 Christmas "Treat" bags were popular as gifts for children in the 1930s and 1940s.  On this day in 1944, just a few days before Christmas, treat bags were given to children at the State and Lincoln Theatres.
The 600 treat bags held oranges, nuts, apples and candy.  They were put together by members of the Junior Chamber of Commerce, and distributed to the children who attended their annual Christmas show.
The photo above shows the State Furniture Company, located in the former State Theatre building, on the corner of West Fifth and North Liberty Streets.
Photo courtesy of Forsyth County Public Library Photograph Collection.