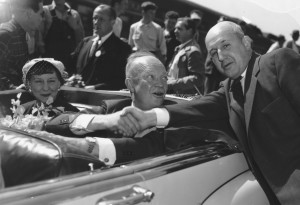 General Dwight D. Eisenhower, with his wife, Mamie, came through Winston-Salem on this day in 1952.  Eisenhower made the trip during his campaign for the presidency.
Eisenhower traveled by train and made a brief speech at Union Station.
Crowds of people came to see the campaigning party, and several school bands lent their musical accompaniment to the event.
The photo above shows Mamie and General Eisenhower seated in the car.  Mayor Marshall Kurfees shakes the general's hand and poses for the impromptu photo op.
Photo courtesy of Forsyth County Public Library Photograph Collection.