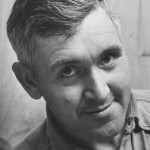 Frank Lustig was born on this day as "Franz Josef" in 1905, in Germany, to Karl and Helen Lustig.
He had studied and worked with master gardeners, and came to Winston-Salem in 1928.
He was hired by Will Reynolds to work at Tanglewood as gardener in 1928, and he continued in that position until his death in 1986.
He was married to Blanche Ownbey.
When Frank began his lifetime of work at Tanglewood, the acreage was filled with wildness growing everywhere.  He saw brushes, vines,  fallen trees, weeds, and treelets growing in all the wrong places.  So he began to wipe out the bad stuff and put in the good stuff.   He fashioned the gardens, the hedges, the flower beds, the groves of trees, and planted grass. At the time of his death, all of the landscaping at Tanglewood Park was the creation of Frank Lustig.
Frank was such a part of Tanglewood that he wanted to be buried in the Mount Pleasant Church cemetery in Tanglewood Park.  He inquired about his chances, and the park trustees discussed it and passed a recommendation on to the county commissioners.  The commissioners approved the recommendation in 1985, in recognition of his long and faithful service, and set aside three plots for Frank, his wife, and their daughter Carma.
Frank passed away in 1986.
Photo courtesy of Forsyth County Public Library Photograph Collection.